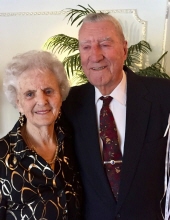 Obituary for Bob and Joan Seirup
Robert L. Seirup, Sr. and his beloved wife of 67 years, Joan (Hedin) Seirup began the new year together again, following their passings on December 8, 2017 and December 31, 2017. Joan, raised in Bridgeport by the late Harry and Katharine Hedin, graduated from Bassick High School in 1945 and the Scudder Business School. Bob, a lifelong Fairfield resident and son of the late Carl and Maud Seirup, was a graduate of Ludlowe High School and received a bachelor degree from Springfield College, master degrees from Fairfield University and the University of Bridgeport, as well as a 7th year degree from Arizona State University. Prior to his extensive education, Bob served honorably in the U.S. Army during WWII.

In 1949, Bob and Joan were married and shortly after, began a family. While Joan stayed home to run the household and raise their three children, Bob began a long career with Fairfield Public Schools as a Physical Education teacher and well-known and accomplished basketball coach.

Bob touched many lives during his tenure at school, which was highlighted by coaching the team that won the New England Basketball Championship in 1955. He also proudly officiated football, basketball and baseball at the high school and college levels.

In addition to volunteering at many school and church activities, Joan worked for MBI for over 20 years once the children were in school. Together, the busy couple also ran the Seashore Swimming School on the Fairfield beaches. The Seirups had a loving union, were a true team and will be missed deeply by all.

Bob and Joan are survived by their son, Robert L. Seirup, Jr. and his wife, Gail of Fairfield; their daughter, Pamela Lanyon and her husband, Stephen of Turner, ME; and their daughter-in-law, Maureen Seirup of Milford. They will also be missed by their beloved grandchildren, Adam, Amanda, Christopher, Jennifer, Douglas, Anneli, Barbara, Eliza, Alex and Maura; great grandsons, Mason and Carter; as well as their sisters-in-law, Dottie and Swanny. They were proceeded in death by their son, David Seirup; Joan's brother, Donald and Bob's brothers, Jack and Bill.

Friends are invited to greet their family on Sunday, January 7, 2018 from 1:00 – 4:00 p.m. at the Shaughnessey Banks Funeral Home, 50 Reef Rd. in Fairfield Center. A memorial service to celebrate their lives will be held at 4:00 p.m. Interment will be private.

In lieu of flowers, contributions may be made to the Fairfield Police Athletic League, PO Box 423, Fairfield, CT 06824.
Previous Events
Visitation
Shaughnessey-Banks Funeral Home
50 Reef Road
Fairfield, CT 06824
Memorial Service
Shaughnessey-Banks Funeral Home
50 Reef Road
Fairfield, CT 06824
Memorial Contribution
Fairfield Police Athletic League
PO Box 423, Fairfield, CT 06824